Original Tulsi Tea - Organic India - Herbal Tea from India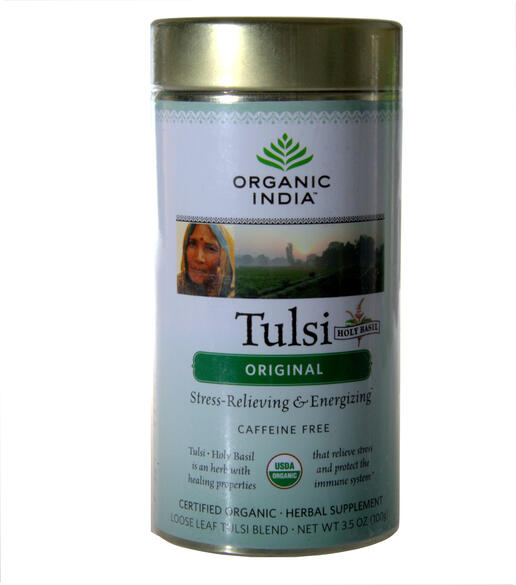 This herbal tea consists of three holy basil (Ocimum sanctum) from organic farming in India: Rama Tulsi, Krishna Tulsi and Vana Tulsi. In India Tulsi (The Uncomparable in Sanskrit) is admired as the herbal manifestation of the God Vishnu. It is told that the Hindu Goddess Tulasidevi turned into this medical plant to serve and protect the human beings. Tulsi is especially admired by the Brahmin as a holy plant and queen of herbs and is therefore often planted in gardens of temples and private houses.
This original Tulsi tea is produced by Organic India in the North-Indian plains of the Ganges river with love, care and respect to Mother Earth. The different sorts of basil (Rama Tulsi, Krishna Tulsi & Vana Tulsi) that are used for this organic herbal tea are natural (not processed) and contain large amounts of essential oils. According to the Ayurvedic doctrine Tulsi strengthens the body's defences, reduces stress and promotes inner clarity.
This organic herbal tea is free of coffein.
Preparation: Pour 0.7 liters of boiling water over 1-2 tables spoons of original Tulsi tea and let it rest for 5 minutes. This organic herbal tea can also be drunk like a Masala Chai boiled with fresh milk. This organic herbal tea is especially good with Ayurvedic sugar or honey.