Liquid Hand Wash from 1001 Nights Hammam El Hana 400ml, diff. kinds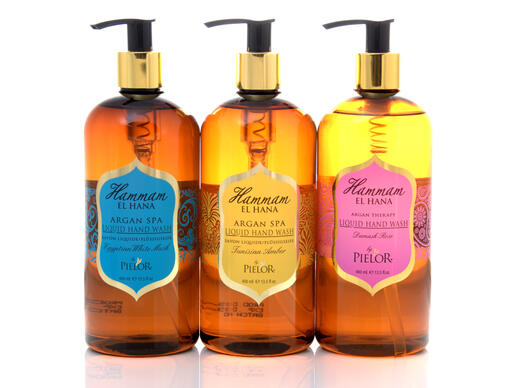 Wonderful Hand Soap / Hand wash with the scent of the Orient and precious argan oil.

The special feature of this skin care line lies the use of exquisite Argan oil, which is extracted from the seeds of the Argan tree. Particularly noteworthy is the high content of vitamin E, antioxidants and Omega 6 fatty acids, which nourish and protect the skin with long lasting.

The skin care line is available at Gundara in three different, oriental fragrances.
The scent of Royal Amber's warm, oriental, earthy is very captivating
Oriental Rose pampered with a flowery fragrance
Egyptian white musk is wonderfully intense and pleasant fragrance
Oud
Jasmin
These Pielor / Otttoman products are packaged exclusively and are a great gift if you are looking for something special.


This soap cleanses gently your hands, the natural moisture balance of the skin is preserved.
This neutral pH value liquid soap is suitable for all skin types.

The Tunisian Amber Version Contains: Aqua (Water), Sodium Laureth Sulfate, Cocamidopropyl Betaine, Sodium Chloride, Glycerin, Parfum (Fragrance), Methylchloroisothiazolinone, Methylisothiazolinone, PEG/PPG-120/10 Trimethylolpropane Triolate, Laureth-2, Argania Spinosa (Argan) Kernel Oil, Citric Acid, Linalool

The Egyptian white musk Version Contains: Aqua, Sodium Laureth Sulfate, Cocamidopropyl Betaine, Sodium Chloride, Glycerin, Parfum, Methylchloroisothiazolinone, Methylisothiazolinone, PEG / PPG / 120/10-trimethylolpropane Trioleate, Laureth-2, Tetrasodium EDTA, Argania Spinosa Kernel Oil, Citric Acid

The Oriental Rose Version Contains: Aqua, Sodium Laureth Sulfate, Cocamidopropyl Betaine, Sodium Chloride, Glycerin, Parfum, Methylchloroisothiazolinone, Methylisothiazolinone, PEG / PPG / 120/10-trimethylolpropane Trioleate, Laureth-2, Argania Spinosa Kernel Oil, Citric Acid, Citronellol, Geraniol

The Arabian Oud Version Contains: Aqua, Sodium Laureth Sulfate, Cocamidopropyl Betaine, Sodium Chloride, Glycerin, Parfum (Fragrance), Methylchloroisothiazolinone, Methylisothiazolinone, PEG/PPG-120/10 Trimethylolpropane Trioleate, Laureth-2, Argania Spinosa (Argan) Kernel Oil, Citric Acid, Benzyl Salicylate

The Persian Jasmin Version Contains: Aqua (Water), Sodium Laureth Sulfate, Cocamidopropyl Betaine, Sodium Chloride, Glycerin, Parfum (Fragrance), Methylchloroisothiazolinone, Methylisothiazolinone, PEG/PPG-120/10 Trimethylolpropane Trioleate, Laureth-2, Sodium Arganamphocetate, Citric Acid

Warning
For external use only. Avoid direct contact with the eyes. Keep out of reach of children. Store at room temperature